Hello, Sunshine! What's the first thing you notice about another person? For me, it's always their smile. There's something so refreshing about seeing another person smile.
I don't know about you, but I'm self-conscious and always checking to make sure that my teeth are clean and debris free. There's nothing more embarrassing than having a big smile, only to discover that you have food in your teeth.
I am a coffee drinker and an occasional red wine drinker, so I invested in a sonic toothbrush a few years ago to help keep stains at bay and get a good, deep clean with every brush. I absolutely love the way my teeth sparkle with a new toothbrush head and fully charged toothbrush, but lately, my old sonic toothbrush hasn't held a charge for very long. And the replacement heads are very expensive.
My friends at Smile Brilliant have given me the opportunity to try their new cariPRO™ Ultrasonic toothbrush and I've been more than happy with my results.
cariPRO™ Ultrasonic toothbrush
So what is different about the cariPRO™ Ultrasonic toothbrush? Well, for one thing, it has 30-day battery life on a full charge. That's really important to me. When I travel, I bring my sonic toothbrush with me and I love not having to worry about if it will stay charged or not.
I don't use a manual toothbrush – ever! My teeth never feel clean when I use one.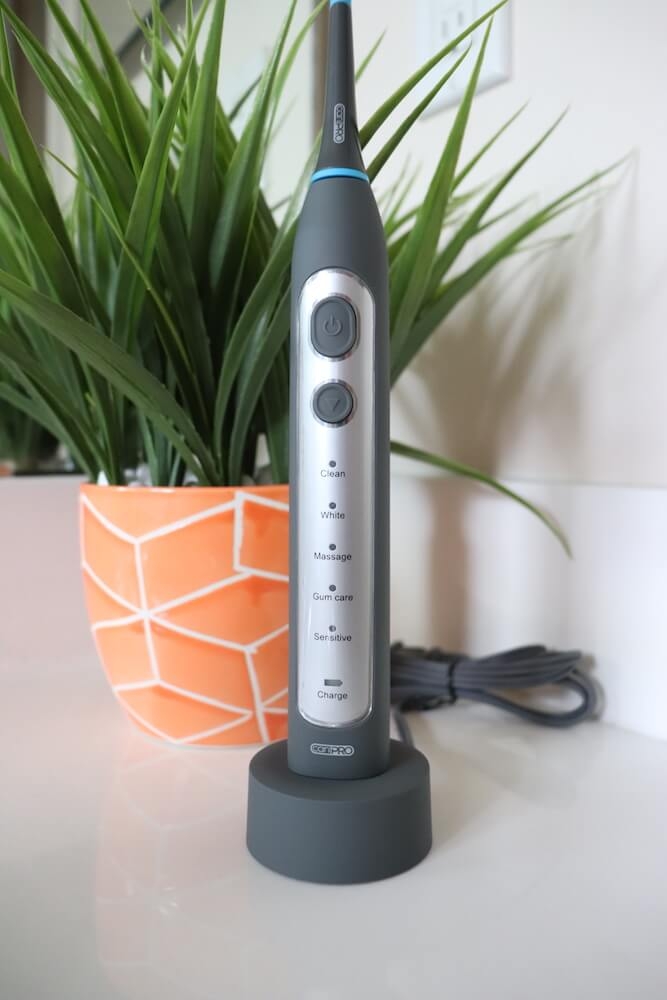 Better Cleaning For Your Teeth
One of my favorite things about the cariPRO™ Ultrasonic toothbrush is the five different modes it has. My personal favorite, white, of course! Smile Brilliant does an amazing job of offering products to help you whiten your smile at home. I've used their at-home whitening kit and wonderful results from it.
The white mode works by polishing your teeth, kind of like they do at the dentist's office. The other two modes that I use the most are clean and gum. I begin with the clean mode to remove any build-up and for a good old fashioned brushing session. I follow it up with the gum to gently massage my gums and help prevent gingivitis. I end my brushing session with clean for a pearly white polished smile.
The cariPRO™ Ultrasonic has a built in 2-minute timer. To make it even easier, it divides the two minutes into 30-second quadrants.
Don't forget about brushing your tongue! The brush head has a tongue scraper on the back to remove food and help keep your breath smelling fresh.
Remember when I said that the cost of the replacement heads of my old sonic toothbrush was expensive? That's not the case with the cariPRO™ Ultrasonic toothbrush replacement heads. I try to replace my toothbrush heads monthly, but the cost sometimes makes that prohibitive. Replacing your toothbrush head is easy with the cariPRO™ Ultrasonic toothbrush. You can order two, four, or eight replacement heads, based on your needs.
The cariPRO™ Ultrasonic toothbrush would make a great gift too!
Right now, you can save 20% off cariPRO Ultrasonic electric toothbrushes with code myraysofsunshine20
Smile Brilliant is giving me the opportunity to give away one (1) cariPRO™ Ultrasonic toothbrush! Click here to enter the contest!