Thank you to Clearwater Marine Aquarium for sponsoring our visit and allowing us to promote Be Winter's Valentine. Make sure you visit The Mommy Spot Tampa Bay to learn about events happening.
Have you been to the Clearwater Marine Aquarium? We went last weekend for the first time and it was a fun and very educational experience for both of my girls, as well as myself.
Did you know that it Clearwater Marine Aquarium (CMA) is a rehabilitation facility and marine rescue? Honestly, I didn't. During our tour, we learned so much about the animals that they have helped and how the various ways they've helped them.
Of course, we saw Winter the Dolphin, famous from the movie Dolphin's Tale! Our guide said Winter likes to look at people when she is being photographed.
Our Favorite New Facts We Learned
We learned so much during our tour. Our guide, Allie, taught us so many amazing facts that were interesting to both kids and adults.
The dolphins eat three bucketfuls of fish every day.
Sea Otters are fed meatballs.
CMA was originally a water treatment plant.
George, a sperm whale, was their very first rescue.
Injured turtles can be released into the wild if they have flippers that are diagonally still functioning. If flippers are injured on the same side, both of the front or back flippers, the turtles have to be kept for their protection.
You can determine the gender of a turtle based on the length of its tale. Males have longer tails than females.
Coco is their largest sea turtle. He is over 80 years old and is blind. Sometimes his a blindness causes anxiety and he has to be separated from the other turtles.
Winter and Hope fight like sisters. One will try to boss the other around and will "yell" at the other one. They have to be separated and put into timeout sometimes.
Winter is very good at matching objects.
Nick, the dolphin, is very good a remembering commands and following details.
You can only pet the stringways on their wings, never their back.
How You Can Help Our Sea Wildlife
After we left the aquarium, the girls couldn't stop talking about how much they loved each of the animals and thinking ways they can help protect our sea animals. One of the simplest things we can do is to properly dispose of fishing line. So many of the injured animals at CMA are due to fishing lines and boating accidents. My girls said that next time we visit the beach if they find fishing lines they will make sure to pick it up and make sure that it doesn't hurt an animal.
If you are a fisherman or boater, please take the time to be mindful of our land and sea creatures.
Be Winter's Valentine
Do you want to Be Winter's Valentine? February 8 – 14 admission is $9.99 for kids 12 and under who brings a Valentine's Day card for any of their rescued animals.
Special Valentine's dive presentations at 11 a.m., 2:30 p.m. and 4:30 p.m.
Giant Valentine's Day card you can sign!
Photo opportunity with "Be Winter's Valentine" photo frame and mascot
Valentine's themed glitter tattoos
Fintastic Valentine's Day card photo packages will also be available!
Go Explore Clearwater Marine Aquarium and Be Winter's Valentine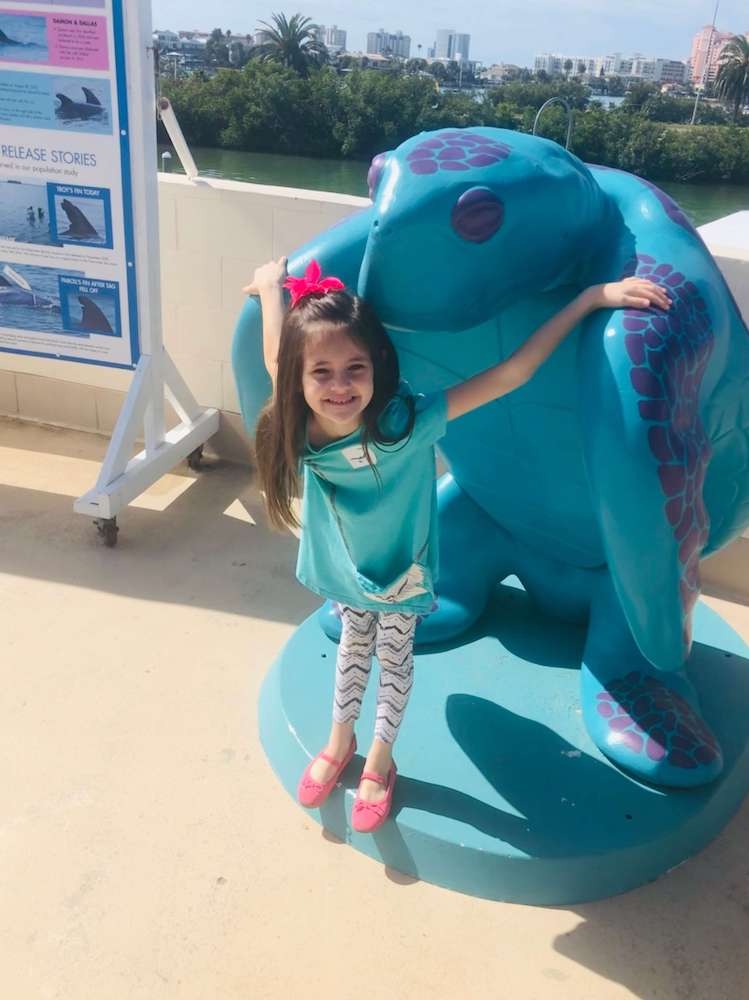 The girls enjoyed practicing rescuing a dolphin.
CMA is a great opportunity for us in Tampa Bay to learn more about how we can help protect our wildlife. If you are interested in learning how the CMA has helped our wildlife and seeing animals that they have rescued, I highly recommend that you visit and learn as much as possible.