Hello, Sunshine! It's the most wonderful time of the year. My kids are so excited for Christmas and so am I! I love seeing the joy in my children's eyes. It's a season of magic and love, and one thing I love is the holiday editions of Starbucks coffee.
Starbucks Coffee – Winter Edition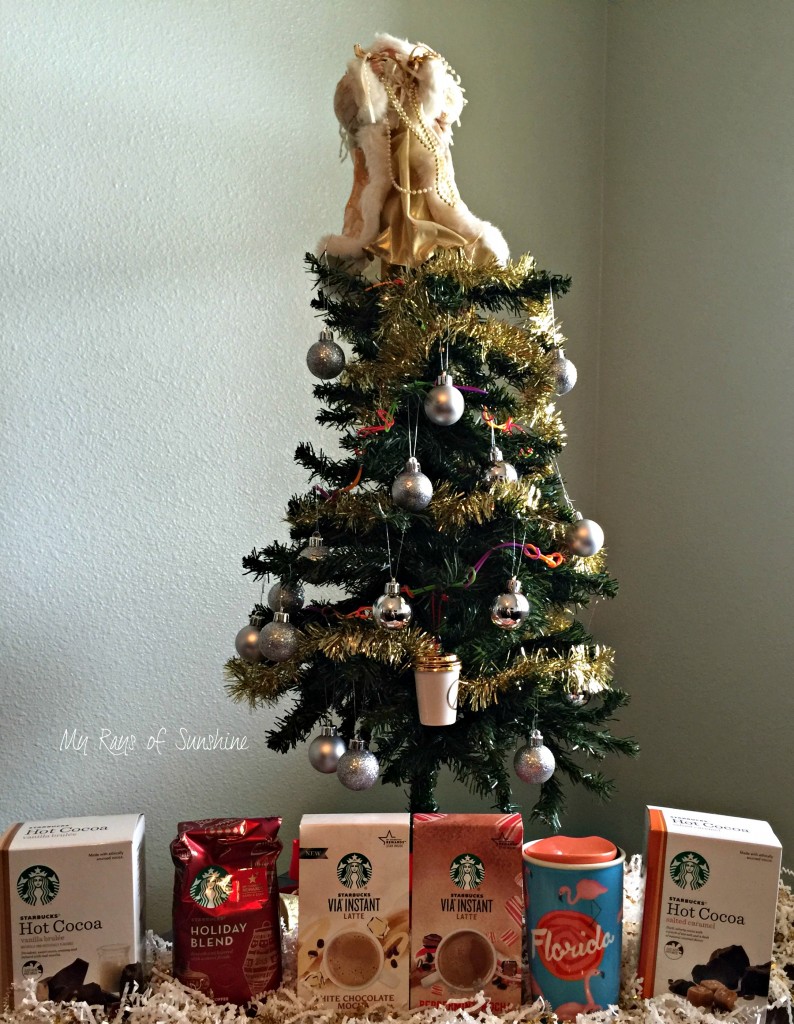 My Starbucks Winter package was filled with so many yummy drinks I couldn't wait to try! There was flavored hot cocoa, VIA Instant Lattes and of course, Starbucks Holiday Blend Coffee to enjoy. I was so surprised to find a peace tumbler ornament and a pink flamingo Local City Tumbler. I mean how cute are the pink flamingos? I kinda want to buy plastic flamingos to put in my yard but for now, I'll settle for taking my Florida city tumbler Christmas Tree shopping. The kids were so excited to get our first real Christmas tree. It's the little things that matter, friends.
Starbucks also has this California Local City tumbler I want to get for CC. He LOVES all things Cali-inspired and this tumbler is just his style. He'd have his tumbler full of the VIA Instant Peppermint Mocha and White Chocolate Mocha Lattes. Those are his two favorite flavor combinations. It's like the VIA Instant Lattes were packed just for him. I asked CC which VIA is his favorite and his response was, "it depends in my mood." Ha!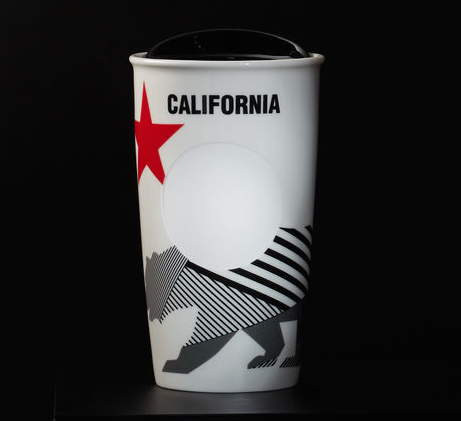 Starbucks Coffee – Hot Cocoa
Even though it's till 80 degrees outside, the kids and I still enjoy hot cocoa. The kids like to sit around the Christmas tree and lick the whip cream off of the top of their cocoa. If it's too hot, I like to ice my cocoa. Starbucks Salted Caramel Hot Cocoa is perfect for the caramel lover in your life. The rich and creaminess of the cocoa and caramel is teased with salty undertones. My kids love the Starbucks Vanilla Brulée. It's a nice balance of chocolatey and vanilla goodness.t
Starbucks Coffee Holiday Blend
I adore CC in his little Santa outfit. He was three months old in this picture and to this day, that boy cannot take a bad picture. CC has a smile that can melt my heart.
I was so lucky that all three kids looked at the camera this year and smiled for their Santa photo. I was so worried that Lulu would run off crying when we put her on Santa's lap, but she was such a big girl. The first thing she told him was that she, "wanted a present, thank you." That girl is full of surprises.
I enjoy my Starbucks Holiday blend every morning. It's a nice medium roast that would bring warmth and happiness to those living in the coldest of climates or remind those of us in warmer climates of the comfort and joy of the holidays.
I think the little peace tumbler ornament is so cute! Every time I see it, I think of the end of Miss Congeniality when Gracie says she really does want World Peace. I think we all do.

I want to thank Starbucks for a wonderful year and for inviting me to be a part of the Starbucks Blogger Community. I'm looking forward to another fun and rewarding year trying all of their new coffee products. I can't wait to share with you all of the delicious new blends of coffee Starbucks will bringing to you in 2016!
Have you tried Starbucks Hot Cocoa or VIA Instant Lattes?
Which Local City Tumbler would you buy?
Thank you Starbucks for sponsoring today's conversation!