Hello, Sunshine! Anyone who's created a beauty product, "for girls who want their makeup on the outside to reflect their girlie girl on the inside" has won my heart.  Jessica Romano is that girl. Jessica is a celebrity makeup artist and the creator of Glamour Dolls Makeup.
The Vision
Jessica was on Style Network's reality show, Glam Fairy, for two seasons. Jessica made her dream come to life by developing a line that was both adorable and affordable by creating Glamour Dolls Makeup.  Every product is cruelty free and affordable for girlie girls like me. All of these amazing products are $5!
Kitty Kisses
First off, how cute is this name and logo? I "oohed and awed" when I pulled out this cute little lip balm. Lulu screamed with excitement over the kitty. Jessica sent me kitty kisses in check mewot. Check me out, get it. 🙂 It's a great shade of barbie pink that gives your lips a subtle pink hue when applied.
Lip Gloss, Lip Cream and Gloss Snob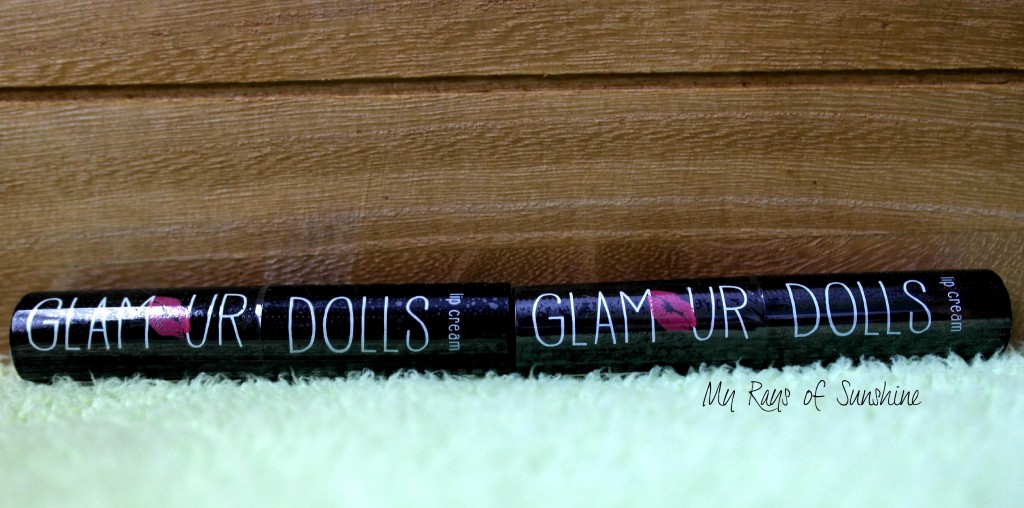 Some of the samples I was sent were meant to be paired together. It was a nice to not have to guess what to do with each product. Duh lip cream and naked banana lip gloss make an awesome nude lip. To add a little extra shine to your nude lip apply dolicious for a glossy nude lip. Nude lips are my comfort zone and I'm happy to have a new nude look to add.
Jessica had me step out of my comfort zone and combine juicy melons lip cream with wildflower lip gloss. I would have never picked this combination for me to wear. Ever. But, I really, really like it! I guess that's why she's the celebrity makeup artist and I'm just a beauty junkie.
I also received plastic heart gloss snob. I love berry colors and this is a great gloss for days you feel like changing it up a bit.
Gypsy Eyeliner
I can't pass up a good eyeliner. I applied the black liner to the outer part of my eyelid/tear line and the blue liner to the inner corners to give my eyes contrast and make them pop. The blue is subtle enough to open your eyes without looking overly dramatic.
Glitter Liner
I love to add a little shimmer to my eyes. I think it's because eyes and smiles are the first things I notice about people and both should sparkle! Kate glitter eyeliner is super easy to apply. You apply it with a nail polish like brush to give your eyes subtle shimmer for the day and you can easily apply more when you're going out at night or celebrating a special occasion.
Make sure you follow Glamour Dolls Makeup on all of their social media accounts.
Thank You, Jessica
I really, really appreciate someone who takes the time to write a handwritten note. It seems like simple etiquette has disappeared, but I sincerely want to thank Jessica for the handwritten note and suggestion.  Without her help I would have never thought of combining juicy melons and wild flower together. I absolutely loved the look and you can see it in the video above.
With Glamour Dolls Makeup you won't be breaking the bank, just hearts ♡ 
Disclosure: This post was powered by BrandBacker.