Hello, Sunshine! I cannot believe it's December already, but I'm excited because I love the holidays. This is such a magical and wonderful time. There's holiday parties to attend and celebrations to be had. If you're anything like Gracie, Lulu and I, you love getting all glammed up for parties and of course that means you need the perfect accessories! I've put together a gift guide for the accessorized girl with amazing jewelry and accessories from Ma Petite LuLu.
Meet LuLu
Ma Petite LuLu has complied a collection of beautiful jewelry and fun accessories for girls of all ages. LuLu wants to be your destination for quality, stylish and fun mother and daughter jewelry and accessories.
My girls and I enjoy embracing our femininity. We love wearing our favorite shoes while dancing to our favorite songs,  finding the perfect accessories to match our outfits, and toping our hair with the perfect little bow. The LuLu collection was created for girls and women like us! If you want to pass on stylish and fashionable memories with your mothers, sisters, daughters, nieces, family or friends, Ma Petite LuLu is your shopping destination.
Party Time!
Gracie is beyond excited for the holidays! She has been busy planning and hosting holiday parties for us since Halloween. We've had a Halloween and Thanksgiving party and now we're preparing for the Christmas and New Year's soirees she's planning. She has a future in party planning and it's only fitting that she's wearing this fun party time headband. 
I love to get all dressed up for any occasion – even for a quick trip to Target. (ha!) I fell in love the moment I saw my mink earrings. They are these tiny little ear muffs that give your earlobe a nice warm hug during these cold winter months.
Ma Petite LuLu Gift Guide For The Accessorized Girl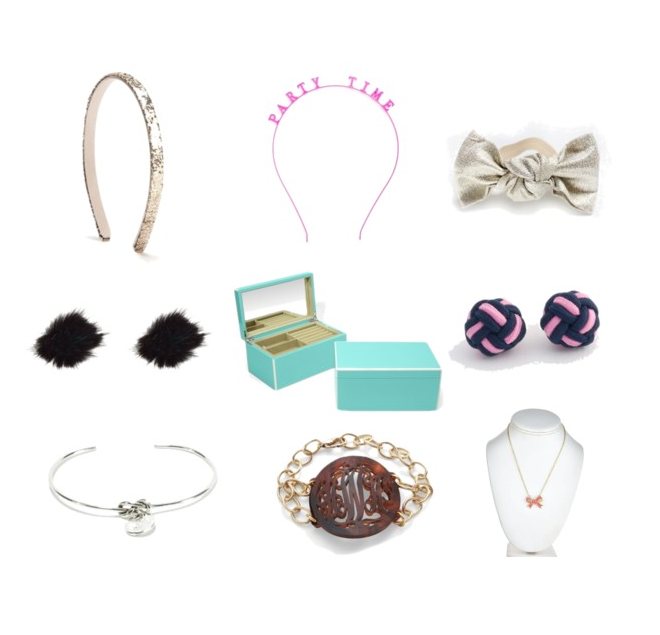 Top Row
Cute Glitter Headbands – Every girl needs a glittery headband to add a little sparkle to her day.
Party Time Headband – This is the perfect headband to help you ring in the New Year!
Bun Bow –  Gracie and I both wear our hair in buns several times a week and this little bow would be a pretty addition to our buns.
Middle Row
Mink Fur Ball Earrings – Your ears are guaranteed to get noticed with these earrings.
Tiffany Blue Jewelry Box – We all need a jewelry box to hold our accessories in.
French Knot Earrings – These are adorable preppy daytime wearing earrings. I love all of the knots and they'd look extra cute on my school girl.
Bottom Row
Forget Me Knot Bracelet – I would love to have this bracelet. It's dainty, but fun at the same time with your initial engraved on it.
Isobel Monogram Bracelet – This is a great bracelet to layer on your wrist. You can customize the shell of the bracelet to make it completely your own.
Enamel Bow Necklace – I really love bows and I like to wear them wherever I can. This is a necklace Gracie and I would share and both enjoy.
Discount!
Ma Petite LuLu is offering free shipping on all orders! If you order $50 or more you can get 10% off with coupon code "happy holidays" and you can have your purchase gift wrapped for $3.
The holiday season is a great time to build an accessory capsule you and your daughters will enjoy for years to come.
Do you have a special memory of dressing up with your mother or you dressing up with your daughter?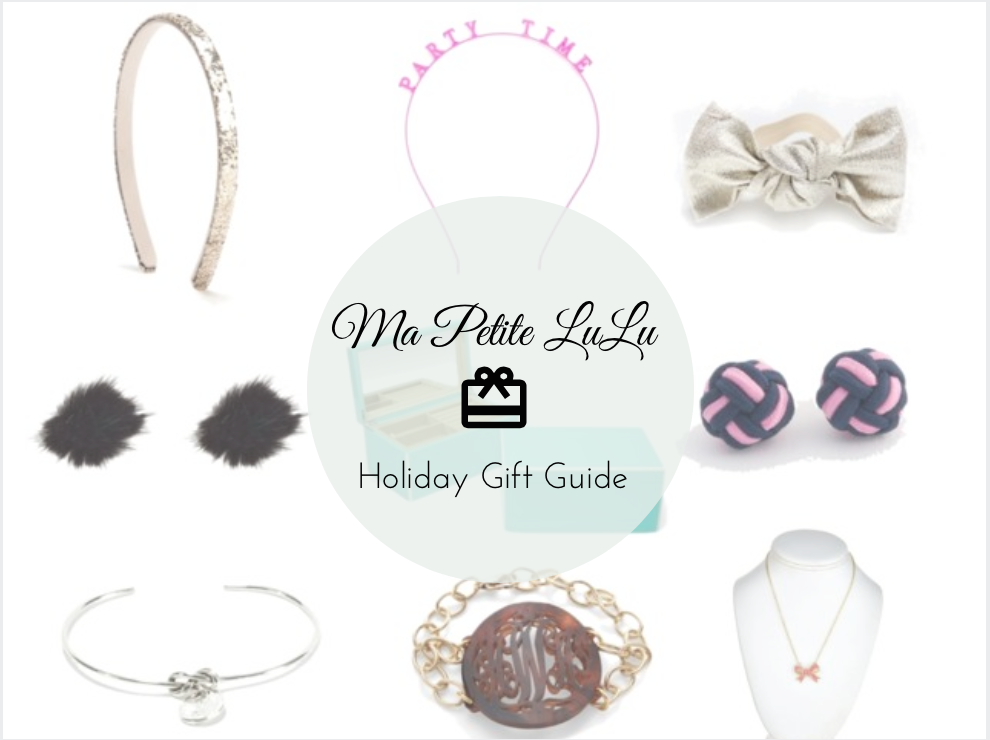 Disclosure: Thank you Ma Petite LuLu for my mink earrings and party time headband for this post.