We're moving AGAIN! It's the fifth time in less than six years. I'm a pro at it. I never unpacked from the last move and I never really had the chance to settle in, decorate and enjoy the house we're currently in.
I'm not sure how long we will be in the house we're moving to, but this time I'm determined to at least unpack and decorate. I work at home and need my own office space where I can shut the door and block out the noise and chaos happening in the house.
I found some great office spaces while busy researching on Pinterest for designing ideas . I love black furniture, but I found the white spaces with bright pops of color really alluring.
I love pink and it will be found somewhere in my office.
BLACK, WHITE AND PINK OFFICE SPACE
HOT PINK DESK
BLACK DESK
WHITE WITH POP OF COLOR
WHITE WALL HUTCH DESK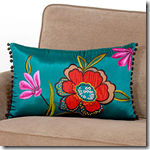 These bright pillows would bring a splash of color to this clean, simple and classic desk from Layla Grayce.
Because we're renting I can't paint the walls, but I love these wall murals from Lot 26 Studio. They make for an inexpensive, fun focal point.
What do you think? Do you have a favorite office space you would like to share?
Please share your Pinterest page with My Rays of Sunshine. I'd love to see what you're pinning!
[javascript src= "text/javascript" src="http://www.blenza.com/linkies/autolink.php?owner=MyRays&postid=20Jan2012g"]
Happy Decorating!