Hello, Sunshine! Today was our first day back to reality. We just returned home from a fun-filled Spring Break. The kids and I visited my parents, sister, and niece, we had a day at the beach, saw Disney on Ice, and spend two days at Disney World. Fun was had by all. We didn't go overboard on amusement park food, but it's fair to say you still feel icky when you don't eat healthily. Now that we're back in the daily grind of things it's time to get back on the junk-free train.
I'm thankful that I have a family who actually likes to eat their fruits and veggies. Carrots are the big winner for team veggie, while my kids will eat any fruit that is put in front of them. But sometimes we all want a sweet treat. That's where Garden Lites Muffins has come to the rescue.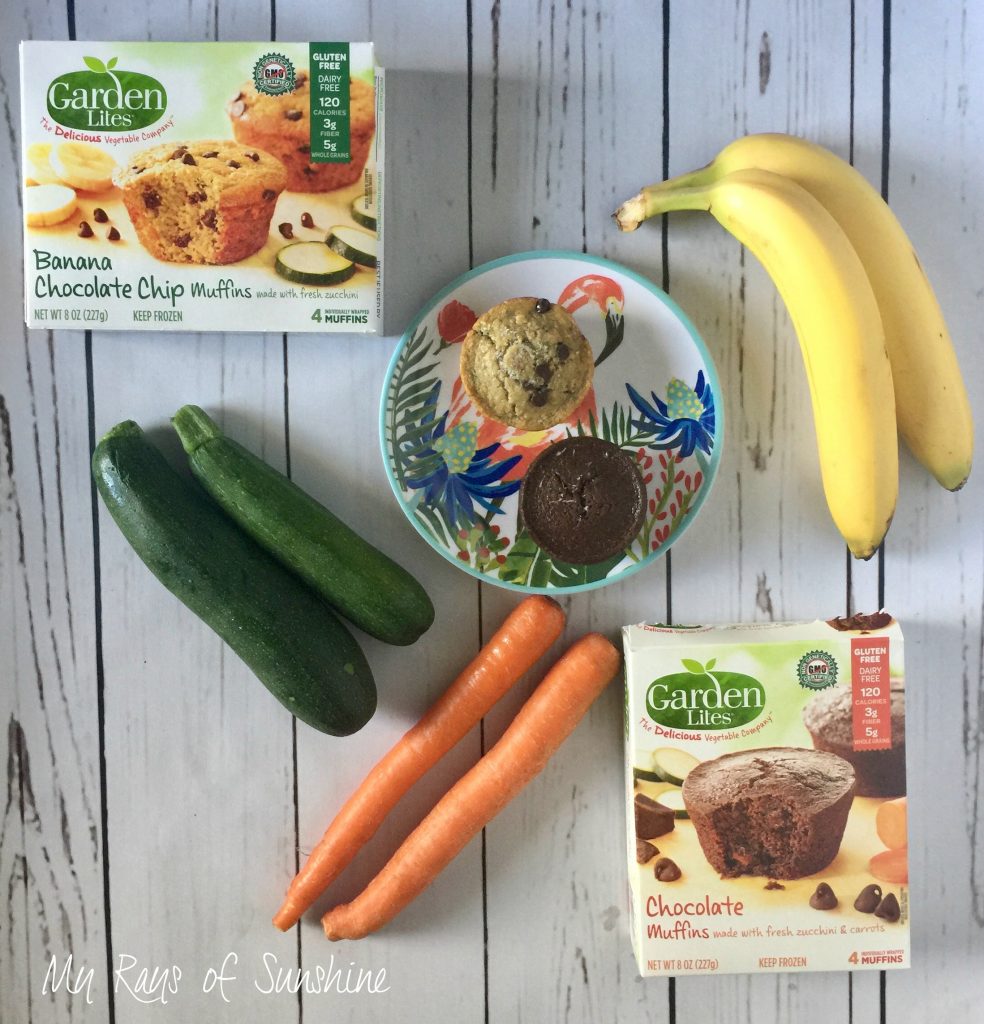 Garden Lites has created foods that are veggie-rich, healthy, and delicious. The very first ingredient in Garden Lites foods is vegetables.
I remember when I was growing up having my Aunt tell me to eat my spinach so that I could have muscles like Popeye. For some reason, I couldn't stand spinach, even though I eat it daily now. Garden Lites makes it simple for you and your family to eat your vegetables. 
To put Garden Lites muffins to the test I hired Lulu to be my taste tester. She's your typical four-year-old who lives on cheese quesadillas, strawberries, bananas, and a variety of cheeses. She and Gracie decided to try Garden Lites Chocolate and Banana Chocolate Chip Muffins. We found them in the frozen department of our local Publix supermarket
Garden Lites Chocolate Muffins are made with zucchini and carrots, and the very first ingredient in Garden Lites Banana Chocolate Chip Muffins is zucchini. Honestly, I was skeptical if my kids would eat muffins made from a green vegetable aka, zucchini.
Lulu was excited to eat chocolate. She had no idea that these were veggie packed muffins. I asked her to try one, but she decided that both muffins were her only option. Silly girl. She had no idea that Garden Lites Chocolate Muffins are 33% vegetables!
Lulu took turns biting into each of the muffins. When I asked her what she thought of them, she jumped up and said they were yummy! She ate her muffins cold from the freezer (she likes cake cold too), but you can easily warm them up in the microwave for 30 seconds.
I LOVE that Garden Lites are non-GMO, gluten-free, and made with only simple and clean ingredients. It's refreshing to find ingredients that I could pronounce.
I found my Garden Lites Muffins at Publix. You can find yours in the freezer section of your nearest Stop & Shop, Giant, Shop-Rite, HEB, Kroger, or Costco.
Now, it's your turn to get Hooked on Veggies with Garden Lites.