Hello, Sunshine! It's been so crazy around here lately! We've been busy with FSA testing, dance practices, baseball games and tournaments, parties, and everyday life. We've been needing a vacation for so long! A week long vacation sounds amazing, but for know we're happy to have a weekend away. One of the nice things about living in Tampa is that we're only an hour away from Orlando. We love having access to all of the amazing things Orlando has to offer without having to fly there. We decided to stay the night at the Lake Buena Vista Radisson, grab a bite to eat the next day at Disney Springs and visit either Blizzard Beach or Typhoon Lagoon. It was a great weekend getaway!
Lake Buena Vista Radisson
Last weekend, we decided to spend the night in Orlando right after a long day of baseball and dance. We booked a room at the Lake Buena Vista Radisson and couldn't wait to see what the hotel had to offer.
One of the nice things about the Lake Buena Vista Radisson has to offer is the lack of a resort fee. A lot of properties near the theme parks charge a $20+ resort fee or parking fee. Not here! Lake Buena Vista Radisson is located right outside of Disney World and offers complimentary shuttles to Disney and Universal.
The hotel is also 100% smoke free and offers free wi-fi. We didn't arrive until late Saturday night, but we were so excited to have a room big enough for all five us. The room offered two queen sleep number beds and one pull out sofa. If you plan on staying for more than one night, the rooms offer microwaves, refrigerators, coffee makers and flat screen televisions.
There's also a pool to relax in and a small fitness to room to burn off all of the calories from the yummy treats you'll eat! The hotel is fairly priced and I'd recommend it to anyone visiting Orlando.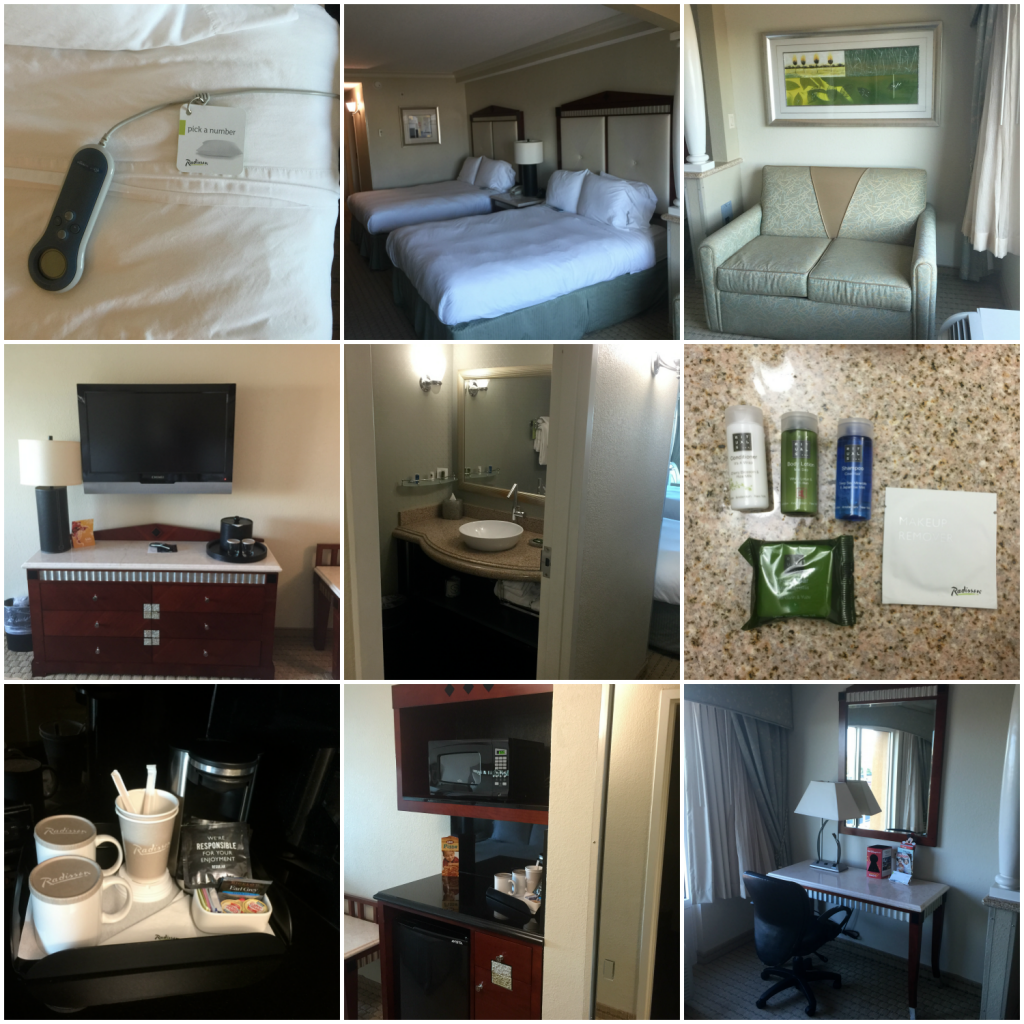 Disney Springs
Downtown Disney has been transformed into Disney Springs. Soon there will be new shops and restaurants for visitors to enjoy. I'm so excited for the new shops to open up!
Disney Springs is a great place to unwind from all of the characters and be a little more grown-up. We usually stop at restaurant before we go to one of the water parks.
Blizzard Beach and Typhoon Lagoon
Yes, we love our water parks! We let Gracie pick which water park we went to on Sunday. Every year we purchase the Florida resident after two annual water park pass. The pass is perfect for us! Most of the tourists have left for the day and the crowds are pretty nonexistent after two.
Disney's water parks are perfect for families with children all of ages. They have areas for infants and toddlers and giant slides for big kids and adults to enjoy. Our favorite ride is Teamboat Springs at Blizzard Beach. It's a family boat ride. We've taken both Gracie and Lulu on it as soon as they were big enough to hold on by themselves. When the girls were little they would scream the whole way down, but now they laugh and giggle the whole time.
We've made some amazing memories at these water parks!
Radisson #TakeMeThere Getaway Contest
This is the big contest that Radisson is running. Grand Prize winners could enjoy a 5-night eCertficatate for two at any Radisson property in North or South America, a $1,000 USD travel voucher, 5-day car rental and Radisson prize pack including a JBL® Splashproof Bluetooth speaker, Nike® Duffle bag, roll-up beach blanket, and two Camelbak® water bottles! Umm, that sounds like a great prize to win! I would LOVE if a My Rays of Sunshine reader won this!

Win a One Night Stay at a Radisson Hotel for a Weekend Getaway
My friends at Raddison want to give you a free night at one of their hotels. One (1) My Rays of Sunshine will win a One (1) night stay at a Radisson Hotel. Please read all of the rules so your entry counts!
Visit the official #TakeMeThere Getaway Contest page.
Create your own post card to share your dream Radisson hotel on Twitter.
Share the direct link to your Twitter post in the comment section. Find out how you can find the direct link to your tweet here. This entry is mandatory for you to enter. Your tweet will look like this:
What do you enjoy for a quick weekend getaway?
Thank you Radisson for the wonderful stay!!