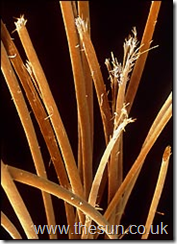 I live in Florida where the weather is unbelievably humid during the summer months but as soon as the colder weather appears, there is a noticeable dry change in the air.
Have you noticed your hair tends to be drier during the winter? Why? Cooler temperatures leave hair feeling and looking dry because of the lack of moisture in the air. Your scalp is also left with fewer natural oils, making your hair thirsty and prone to breakage.
We've had two weeks of unseasonably cold, dry weather. I scheduled family pictures on a frigid day but the cold weather wasn't the frightening factor facing the pictures, my unruly, dry hair was.
I knew I had to defy my dry winter hair. I grabbed my bottle of Kalea Rose Argania Tree Hair Oil and prayed for a miracle. I squeezed three drops of the oil into my hands and gently worked the Argania Tree Hair Oil from my roots to ends. I air dried my hair and applied my make-up.
As my hair dried I felt how soft it had become. The Argania Tree Hair Oil was magic! When my noticeably smoother hair dried, I styled it and ran out for pictures.
In the sunlight my hair glistened. The Argania Tree Hair Oil softened the appearance of my hair. It didn't look anything like the dry, brittle mess it was a few hours earlier. I should have known I would love another Kalea Rose hair product.
Kalea Rose's Argania Tree Hair Oil is a deep penetrating, fast absorbing conditioning treatment for all hair types. The Argan Oil instantly is absorbed into your hair producing incredible shine and smooth as silk feeling to your hair. It also contains Vitamin E which is a powerful antioxidant that quenches free radicals and neutralizes destructive oxidation.
I would recommend applying Argania Tree Hair Oil once a week if your dry, thirsty hair is in need of a drink. You'll be amazed at how soft and shiny it will become.
While the weather outside may be frightful, your hair can still be delightful!
Disclaimer – My Rays of Sunshine was asked to review hair products by Kalea Rose. We were given these products and asked to give our honest opinion. We were not compensated monetarily but we were given these products to review.