Disclaimer: Thank you to Mommy Spot Tampa and Gaylord Palms Convention Center for inviting my family to media preview night. All opinions expressed are my own. Now, it's time to Create Holiday Magic at Gaylord Palms ICE!
Hello, Sunshine! The most magical time of the year is here. There's nothing quite as exciting as seeing the joy and awe in the eyes of my children when they meet Santa and tell him their wish lists. I also love watching them shake and guess what's inside their packages underneath the Christmas tree.
The only thing missing this time of year is the magic of snow and ice in Florida. It's hard to make a snowman without snow and ice skating isn't the same without real ice. One way to create a little Winter weather fun here in the Sunshine State is to create holiday magic at Gaylord Palms ICE in Orlando.
Create Holiday Magic at Gaylord Palms
Starting November 21 through January 7, Gaylord Palms in Orlando transforms into a winter wonderland for all of us to enjoy! I know you can't wait to learn about ICE, but first, let's learn about the Holiday adventures waiting for you at the Gaylord Palms.
Cirque Dreams Unwrapped is a 25-minute thrilling show in the atrium of the hotel. I hope you caught a sneak peek of a few of the acts on my Instagram stories. The kids were amazed at the acrobatic moves of the performers.

Joyful is a beautiful dancing light show also found in the atrium. It's beautiful to see the lights dancing along with the songs of the season.

Sounds of the Season Concert Series featuring a capella concerts on select nights in December.

Christmas Tree Trail displays nine trees honoring Brazilian, Italian, Chinese and other cultures.
Reindeer Express Post Office is a fun way for children to write, sign, seal, stamp, address and digitally send their letters to Santa. If you watched my insta stories you saw Lulu sending her letter away to Santa.

Build-a-Bear Workshop® Scavenger Hunt help find Snowburst and all of his furry friends.

Breakfast with Charlie Brown & Friends my kids loved meeting Charlie Brown and Snoopy!

Santa's Snow Throw my little baseball player couldn't wait to toss out a snowball.
Snow Tubing Gracie and CC could run fast enough to get back in line over and over again to ride the snow tubes.
Photos with Santa in Alpine Village you will also find wonderful holiday gifts here, too.
Treats in the Alpine Village it's not the holiday season without hot cocoa and yummy treats!
ICE featuring Christmas Around the World
For its 15th year, ICE will be featuring Christmas Around the World. More than two million pounds of ice are used to create the magic of Gaylord Palms ICE!
This is our second-time at ICE and we enjoyed it just as much as the first time. Make sure you wear long sleeves and a heavy coat. You're given a jacket to wear, but trust me, nine degrees is very, very cold. You'll also want a hat to keep your head and ears warm and gloves.  I've had my handy mittens for years and they've always kept my hands nice and toasty, even in this freezing cold environment. Your kids should wear sneakers so it's easier for them to climb up to the slides.
Secret tip: make sure the jacket given to you by the hotel is tucked underneath your bottom while you use the slide. If not, you'll have to scoot your way down the ice slide and your bum will be icy cold!
We loved exploring and seeing all of the holiday traditions around the world. The ice sculptures are breathtakingly beautiful. And remember, do not lick the ice!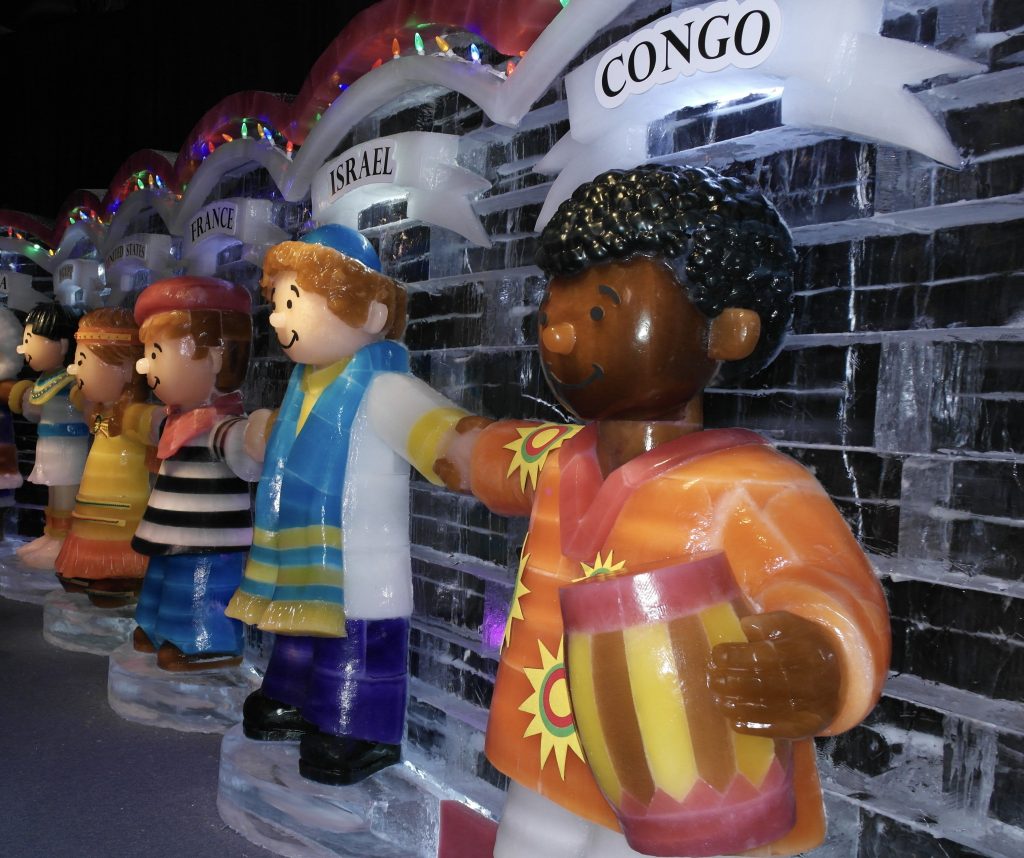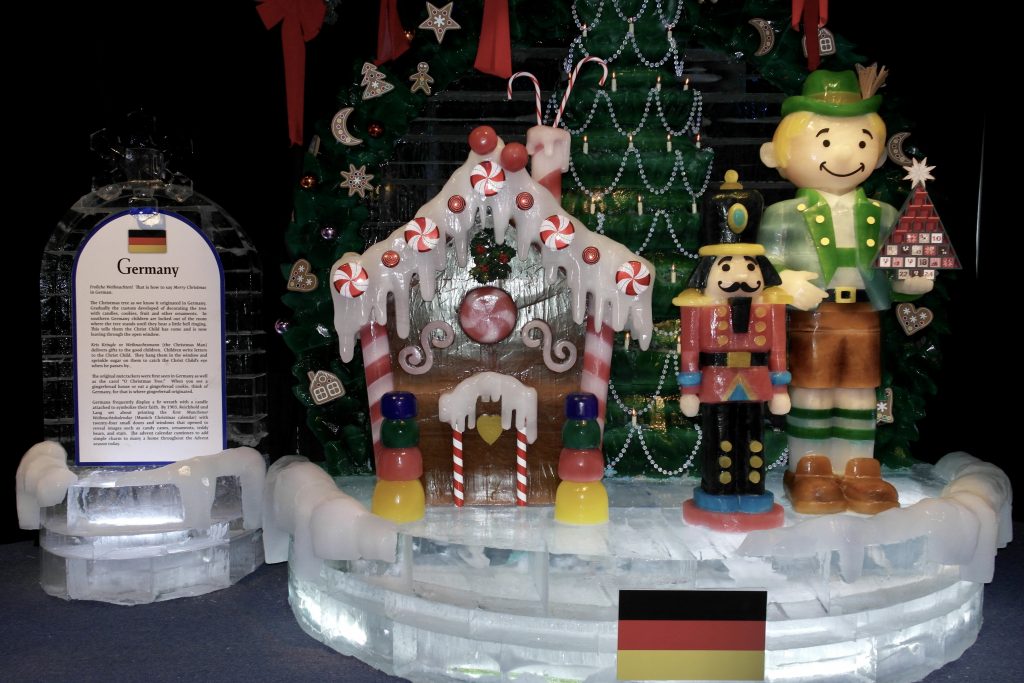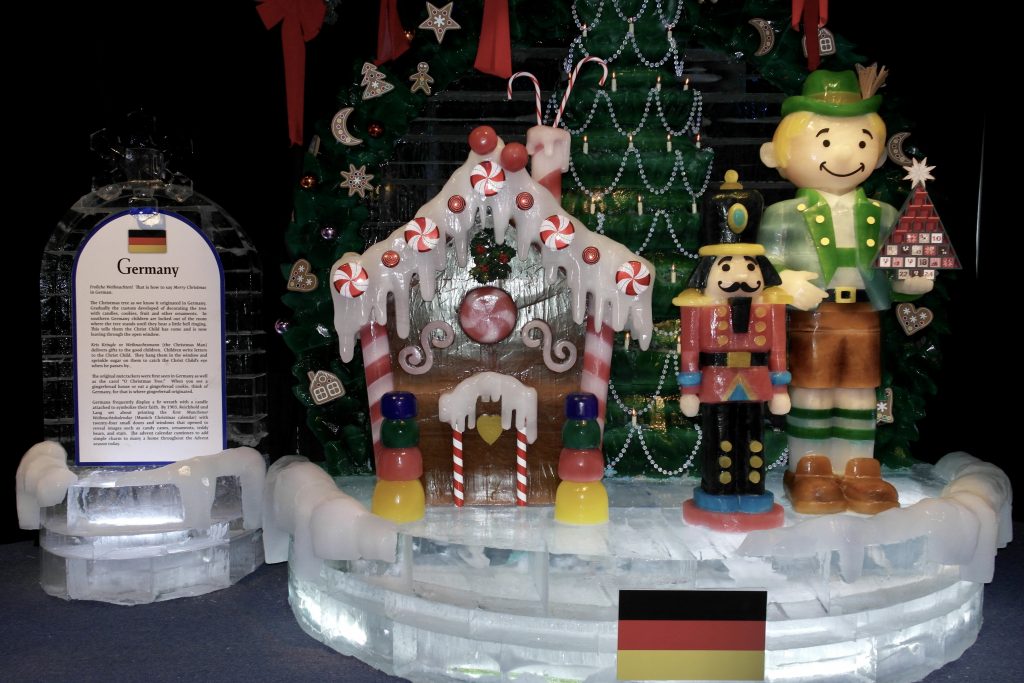 You, along with your friends and family will have a wonderful time exploring Christmas Around the World at the Gaylord Palms ICE! Cheers to a beautiful and magical holiday season!
Have you been to ICE?