Hello, Sunshine! Spring has sprung and that means it's time to go outside and seek adventure. The weather is perfect for you to grab your family and go experience the great outdoors before it gets too hot outside. It's easy to associate living in Florida with going to the beach or one of our many amusement parks but finding a great playground where my kids can climb and let out energy is one of our favorite things to do!  I'm sharing with you my 5 essential items you need for the playground.
1.  Sunscreen
Living in the Sunshine State is a great reminder that we need to apply sunscreen daily. I'll admit that when I was younger it wasn't something that I always did. Today when we were at the playground at 10 the sun was already extremely hot and strong. Please protect your own skin as well as your children's delicate skin
2. Water
It only takes about five minutes before the first I'm thirsty is said. I make sure that each of my kids has a bottle of ice cold water in each of their hands before we walk out the door. It takes care of the drink situation before any complaining begins.
3. Tennis Shoes
Climbing and running is safer and more enjoyable it a pair of sturdy tennis shoes. Living in Florida it's common to go everywhere in flip flops, but kids need a good fitting shoe that supports their feet while they're playing outside and exploring.
4. First Aid Kit
It's common for us to need a band-aid whenever my kids are outside playing. They can trip over a leaf and end up with a cut on their knees. I keep a small pack of an antibiotic gel and band-aids with me in my backpack at all times. It makes it easy to clean out the booboo and protect it.
I'll be the first to admit that I'm a germaphobe. Playgrounds are full of germs, but they help build up kid's immune systems. I used to always clean their hands off with hand sanitizers when they were done playing, but the dirt still remained on their hands until we made our way to a restroom to wash their hands with soap and water.
If a restroom isn't close by, Kleenex Wet Wipes are a great alternative to gently clean kids hands and faces. I love that these wipes don't contain any harsh chemicals and are free of dyes, sulfates, parabens, phthalates, and alcohol. It's comforting knowing that I'm giving my kids a gentle, but effective clean with the simple swipe of a wipe.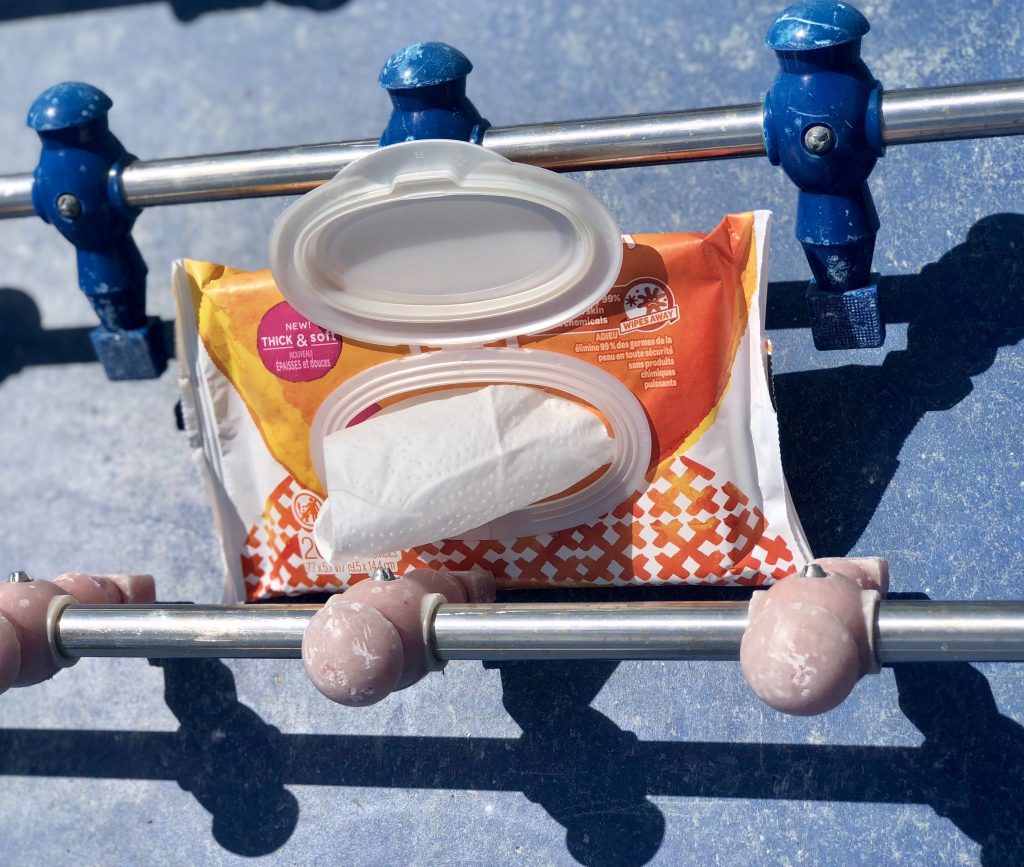 I keep a package of Kleenex Wet Wipes in my car, gym bag, and purse. It's so convenient for cleaning not only my kid's hands and faces but mine as well.
Stop by your local Target to pick up one or all three of Kleenex's Wet Wipes today!
What are your essential items for the playground?
Have you tried Kleenex's Wet Wipes?