This gift guide is made in collaboration with UncommonGoodsofollow. All thoughts and opinions expressed are my own. Thank you for supporting my sponsors. Now, let's learn about 3 Amazing and Unique Uncommon Finds.
Hello, Sunshine! I've been so busy lately. The holidays are full of parties and activities to attend. I have a mile long to-do list that doesn't seem to be shrinking, but at least I'm down to shopping for my final gift recipient. I love to give unique, unexpected gifts and enjoy seeing the excitement on their faces when they open up their gifts. I know that sometimes it's a challenge to find the perfect gift, so I thought I'd help you out with my UncommonGoods gift guide.
Here are 3 of my favorite amazing and unique uncommon finds that will bring joy to those on your list:
Bedside Essentials Pocket
This bedside essentials pocket is honestly the perfect gift for anyone who doesn't sleep in a crib. It's just the right size to keep my phone and nighttime goodies in.
Before I would leave my phone on the floor next to me so I could easily reach it to turn off my alarm in the morning. I'd have to make sure that it wasn't close to where I would step on it if I woke-up in the middle of the night. My glasses would be safely stored next to my tv, but if I fell asleep with them on, I'd have to waltz over there and put them away. No one wants to do that in a zombie state of mind.
It's easy to insert the pocket between your bedframe and mattress. If you don't have a frame, you can insert it in-between your box spring and mattress. It comes in two sizes and could be used to store your child's favorite bedtime books in their rooms and of course, your phone and gadgets in your room.
Homesick Candles
Bedside Smartphone Vase
I always have music blasting out of my speaker. It makes the most boring task more enjoyable and I carry it with me throughout the house. And yes, this is how I used to store my phone on my kitchen counter. Classy, right? For another option, there's usually a stack of mail I can place my phone on as well. A girl can't have too many options.
So, you can imagine how excited I was to spot this beauty. I'm already in love with my phone case, but the beside smartphone vase displays it like a piece of art. You can hide your phone's cord underneath the vase and charge it will it's resting on it. I was tempted to order the white vase to match my backsplash, but I love the subtle mint of the one I have. You can't go wrong with either one.
Whenever I'm grocery shopping, I feel like I need an excuse to buy flowers. Now, I have a legitimate reason too. I'm so excited that I have a way to keep my phone by me while working in the kitchen and also protecting it from spills and destroying it. This phone holder is perfect for the bedroom, office, bathroom (wink) and of course, the kitchen.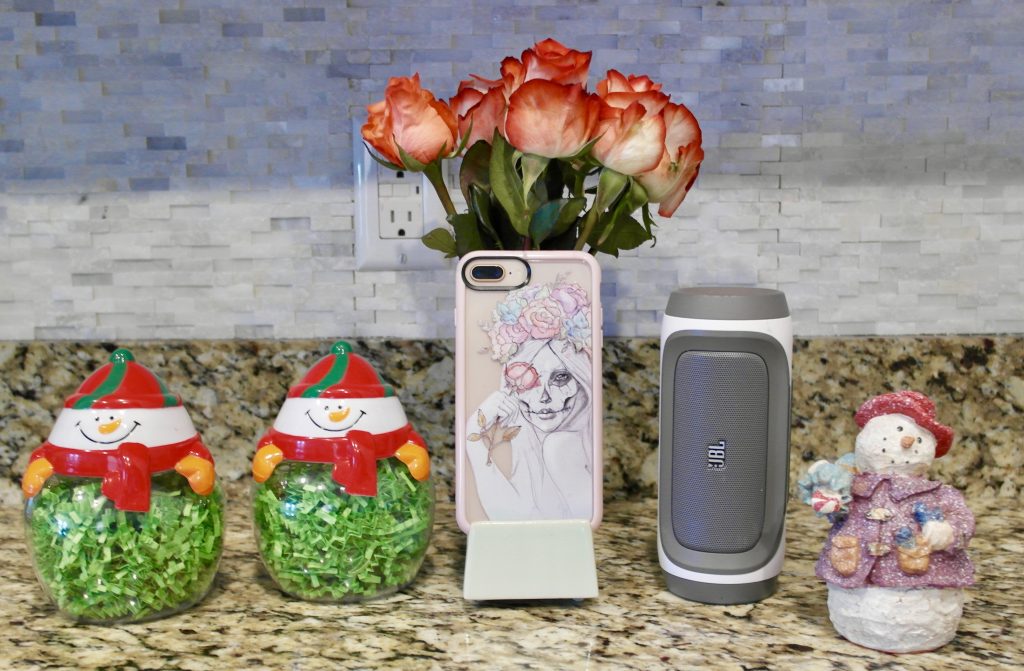 UncommonGoods
There are so many wonderfully amazing products on UncommonGoods. I've spent days looking at the website and I'm positive there are so many other fabulous items I've missed.
But what makes UncommonGoods even better is their core values. Their lowest paid seasonal employee makes 50% more than the minimum wage. They believe in supporting artists, using upcycled materials, and making it a goal to impact the world in a positive way. That's a company I can fully support and I hope that you'll do the same.
Have you shopped at UncommonGoods?
Does a company's core values influence your decision to shop at it?