October is Breast Cancer Awareness Month. You've seen the pink ribbons everywhere, but now you can fight breast cancer and practice good hygiene too!
It's nice and convenient when you use a public restroom and the owner of the restroom provides you with toilet seat covers. But what happens when you can't find any toilet seat covers or the dispenser is empty? Do you strategically place sheets of toilet tissue on the toilet or do you practice your hovering skills and give your thighs a good workout?
Meet Toletta premium toilet seat covers. These purse sized pouches contain 5 toilet seat covers. The covers are premium 3ply and cover the entire toilet seat.
Just think, next time you're on a road trip and you have to use a gas station restroom, you can be a little more comfortable knowing Toletta is between you and whatever may be growing on the toilet seat.
If you purchase the pink pack, Toletta will donate 10% of its revenues on an ongoing basis, not just the month of October, to help women become breast cancer survivors. Some of the donations go towards helping women in poverty receive mammograms and other medical treatments. Toletta believes in continuous giving to make a "bigger impact on the lives of those in need."
Toletta has created two unique YouTube videos, Get Your Own and Squatting in Heels. What happens when you have to share your Toletta or model in a restroom?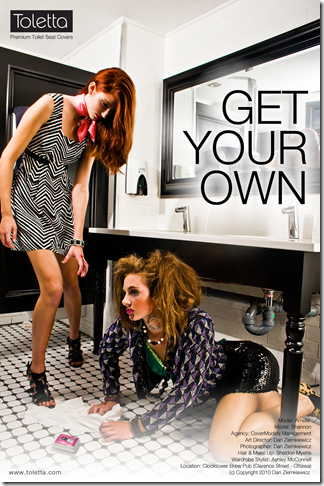 When you use Toletta you not only protect your tush from germs, you help women fight breast cancer.