Hello, Sunshine! Have you heard of hair makeup before? Hair makeup is a fun way to add color to your hair without the commitment.  I love to experiment with hair color and I've tried all of the basic hair shades: brunette, black, red and blonde. Now I can have color tipped ends thanks to Redken's Rebel Color Hair Makeup. 
Redken's Color Rebel Hair Makeup
Redken's Color Rebel uses makeup technology by depositing very fine color pigments on the surface of your hair. It's hydrophobic meaning it limits the amount of color changing from washing, brushing, or styling your hair. It's pearlescent pigments create multi-dimensional iridescent color effects, while the water based ink allows the makeup to apply and dry quickly.  The color is easy to transfer to your hair without thick clumps accumulating on it.
I was given Red-Y to Rock and Guilty as Charged colors to review.  It was super easy to give my hair the rock star treatment with Red-Y to Rock. All I had to do was attach my color rebel sponge to the applicator, put the lid on the bottle, shake the bottle vigorously, and twist the cap in the direction of the arrows until the sponge tip is full of color.
The applicator reminds me of a bingo maker. I spent a lot of time working bingo in high school for cheerleading, choir, yearbook and newspaper fund raisers. BINGO!
To apply the color I stacked a few sheets of paper towels on the counter and laid my hair on top of it. I tried to get the same amount on all of my ends. My hair is full of layers so it was a little tricky to make sure I didn't have a chunky layer that I missed. I made JD inspect my hair, so if I missed a section it's his fault. I wanted a deep, bright red so I made sure I applied a thick amount of color on my ends. I let it air dry and then brushed it out.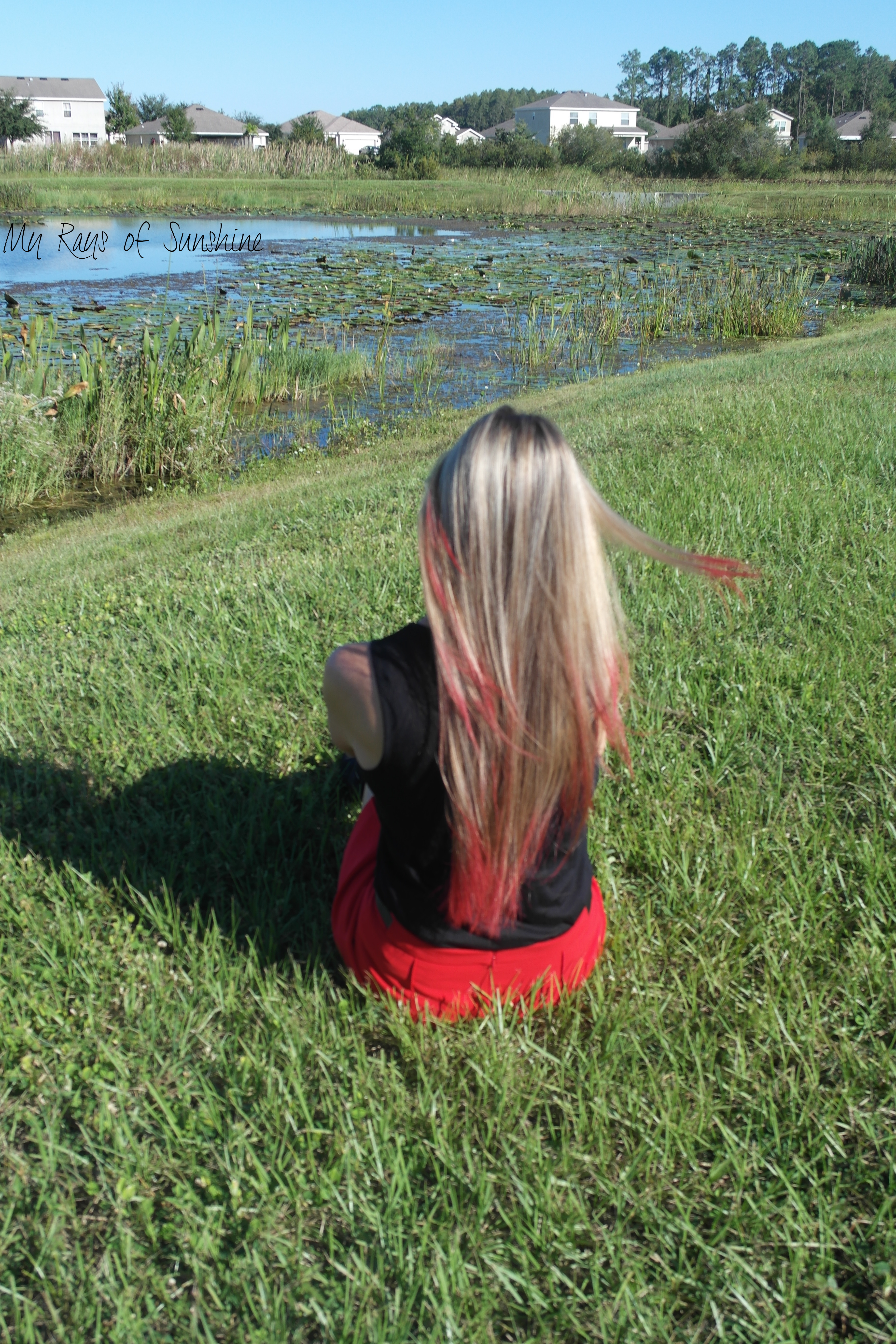 I love the way Red-Y to Rock looks in my hair.  I like my red tips so much that I'm thinking of adding red highlights the next time I go to the salon.
I would definitely recommend Color Rebel to anyone wanting to add color to their hair. I would love to try Punked Up Pink in my hair. I really like the look of pink and blonde together.
Color Rebel is available in 5 different shades that include: Red-y to Rock, Rebel Without A Coral, Punked-Up Pink, Purple Riot and Guilty as Charged and will be available beginning this month in your favorite salon that sell Redken products.
Go ahead, be a rebel.
Do you like to change up your hair?
Are you afraid of hair color commitment?
**Powered by BrandBacker**