Hello, Sunshine! I love making memories with my family. I'm really good at photographing important and daily moments in their lives. It's one way for me to hold onto the memories of them being little. I've always videotaped the big moments in their lives, but I've never stopped to ask them about everyday questions. OneDay app allows you to make mini movies by asking your kid's about the simple things in life.
Observing my kids ponder what adults would consider to be easy, simple, and basic questions was really entertaining. I learned a lot about CC and Gracie. It was amazing to discover how they see the world around them.
So here's how it works: pick a story with 10 questions provided for you from the choices available and record your children's answers. OneDay automatically loops your video clips together with background music. Easy peasy lemon squeezy.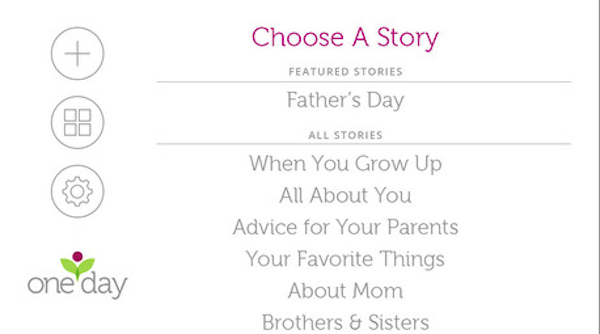 I giggled when I heard the responses from Gracie and CC. Take a look for yourself and enjoy their videos. Turn the volume up a bit to hear their answers.
Dad Loves Chocolate
Dreaming of Atlantis
The Mall is Awesome
Maybe a Million Dollars Isn't Too Much
Preserving the Memories
JD and I always tease the kids and tell them we're going to share embarrassing stories about them to their future boyfriends/girlfriends, spouses and children. I would love to show a future grandson what his daddy, CC,  thought about Atlantis at the age of nine and that grandpa, JD, always held a sweet spot in his heart for chocolate. These are truly magical moments I would have never thought to have captured.
Areas To Develop
I hope OneDay makes an Android app someday. I'm sure a lot of parents with Android phones would enjoy making these videos with their kids. I would also love the option to choose a different song for each video. It would be fun to create a video asking your child, "What Superhero Would You Be?" and include comic book style music in the background.
My favorite questions were the ones that required action from my kids. CC's eyes lit up when I told him to create a commercial for Atlantis. I love encouraging them to engage in creativity whenever possible and asking them more questions that requires them to complete a task would really make for some great candid moments.
Download OneDay While It's Free
You can download the OneDay App here and begin making new memories with your kids. Right now the app is only available for the iPhone and iPad. And in case you were wondering, I recorded my videos on my iPad.
Learn More About OneDay On Social Media
Facebook, Twitter, Instagram and Pinterest 
Discover How Your Children See The World Around Them With The OneDay App
Disclosure: This was a sponsored post from OneDay and Blog Buzz 2 Go. All thoughts and opinions expressed are my own.