This post has been sponsored by CeraVe®. All thoughts and reviews are my own.
Hello, Sunshine! It's been a cold and chilly New Year here in Tampa. We've had lows in the 30s and if you've been watching my Instagram stories, you'd know that on Saturday, CC had a swim meet outside with temps in the 40s. Florida officially participated in Winter this year. I'm so happy that my friends at CeraVe had my back and sent over a box packed with essentials to protect my skin. Today, January 8th is Winter Skin Relief Day, and CeraVe® has everything you need to survive dry, winter skin.
CeraVe® to the Rescue on Winter Skin Relief Day
CeraVe® created Winter Skin Relief Day to bring awareness to our winter skin needs.  In the summer, I complain about our humidity, but the increased dryness in the air during the winter leaves my skin dry and itchy. Yuck! Winter Skin Relief Day is a gentle reminder that we need to always protect our skin year-round.
CeraVe® is dermatologist developed and is the only brand to offer a complete line of advanced skincare products that contain an exclusive combination of ceramides 1, 3 and 6-11. Did you know that ceramides help our skin retain moisture and stop irritants?
CeraVe® products use patented MVE technology that releases ingredients slowly over 24 hours. I'm thrilled to use CeraVe® products that protect my skin all day and night.
CeraVe® Healing Ointment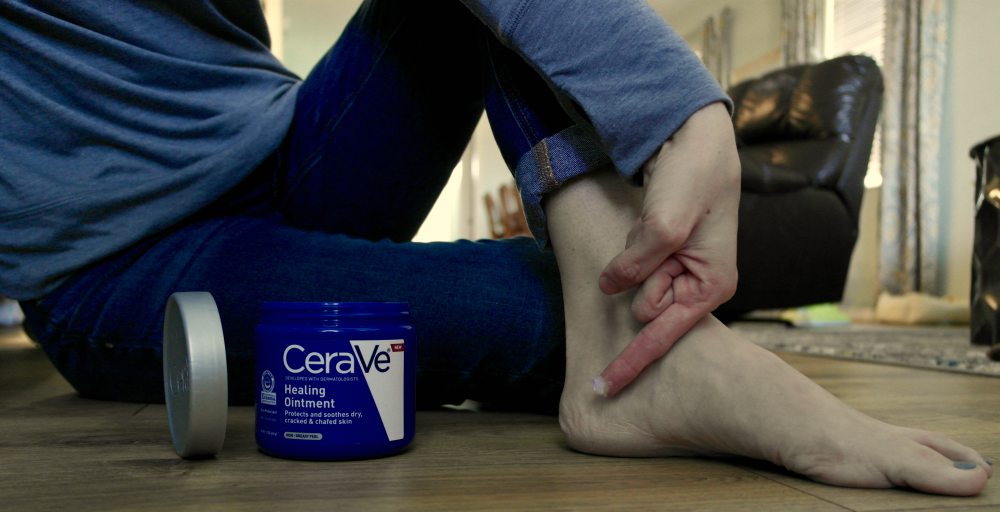 I have unbelievably dry feet. Ballet has really taken a toll on my feet and I was embarrassed to post this photo. JD has beautifully soft feet and I'm totally jealous.
Thank goodness for CeraVe® Healing Ointment. It helps relieve my cracked feet, dry elbows and Lulu's chapped skin on her face in a non-greasy formula that doesn't sting when applied. The intense, long-lasting moisture soothes and protects our dry skin.
CeraVe® Hydrating Cleanser
I usually only use a hydrating cleanser in the evening during the summer because I have combination skin. In the cooler and drier months, I recommend CeraVe® Hydrating Facial Cleanser. It contains hyaluronic acid to help retain skin's natural moisture while removing dirt, oil, and makeup too!

CeraVe® Skin Renewing Day and Night Cream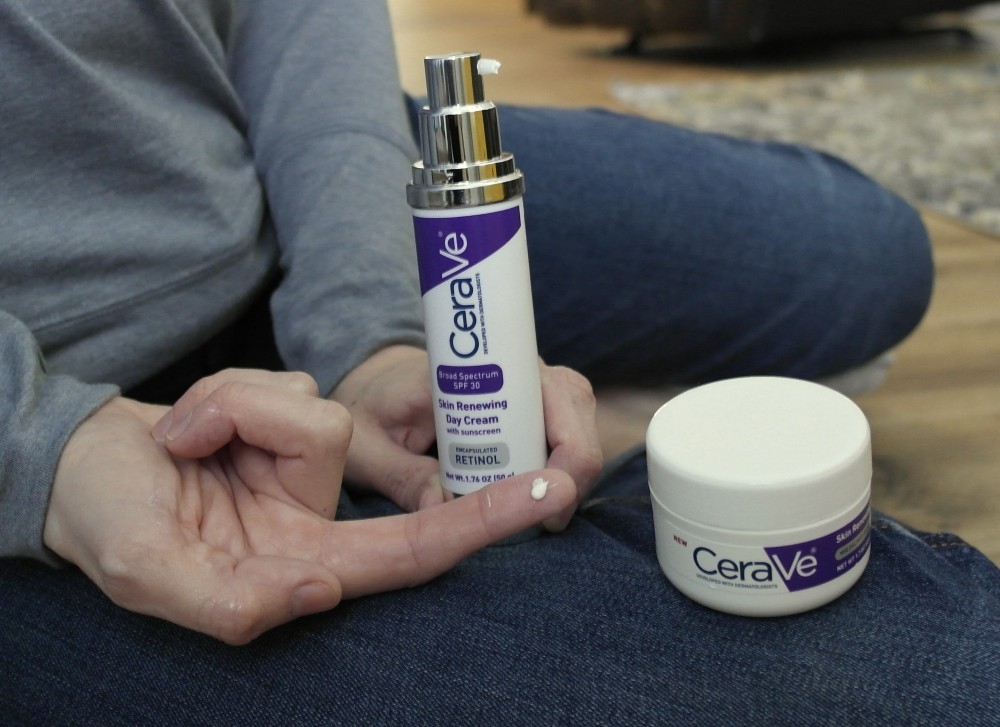 Growing up in Colorado, I know how important it is to use an SPF year round.  I protect my skin daily with an SPF and it's easy with CeraVe® Skin Renewing Day Cream. It's Broad Spectrum SPF 30 Sunscreen helps reduce the look of fine lines and wrinkles with its encapsulated retinol.
At night, you can give your skin a much-needed drink of moisture with  CeraVe® Skin Renewing Night Cream. It helps reduce the look of tired skin and supports skin elasticity with the power of hyaluronic acid.
Celebrate Winter Skin Relief Day by Learning More About CeraVe®
 
Share how you and see how other people are celebrating #WinterSkinReliefDay by joining CeraVe® on Facebook, Twitter, Pinterest, and Instagram.
What are your secrets to surviving winter skin?