The holidays are here and that means one thing, dry Winter weather. Winter weather dries out your skin, eyes, lips and hair. Why? Because the air lacks moisture.
I live in Florida where it is humid. As soon as Winter rolls around, there is a noticeable change in the air.
A lack of moisture leads to dry, brittle hair. Your scalp has fewer natural oils, making your hair thirsty and prone to breakage.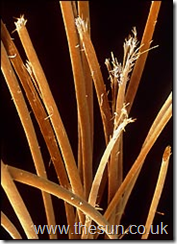 So what can you do?
Maintaining healthy, shiny hair begins with a good trim. Keeping your ends trimmed and split end free will reduce breakage. You should have your hair trimmed at least every eight weeks.
Purchase shampoo and conditioner for dry hair or extra moisturizing formulas. When rinsing your hair, use cold water. By using cold water, you help your hair lock-in moisture.
When you comb your hair after a shower, use a wide-toothed comb. Using this comb instead of a brush is a gentler way of removing tangles. Comb from bottom of your hair to the top of your head.
Skip-a-day washing your hair. Washing your hair every other day is plenty. When you shampoo daily, you strip your hair of its natural oils.
Concealing oily hair by skipping a wash can be difficult. You can use baby powder as a dry clean. To use, sprinkle a small amount of powder onto your scalp.  Remove the powder by simply combing it off.
Or you can always braid your hair, put on your favorite scarf or throw on that new hat you're dying to wear. Try to avoid ponytails, when you pull your hair to tighten the band, you are breaking your hair.
Limit your use of curling irons, flat irons and hair dryers. Excess heat will defeat your hair.
One of my favorite hair thirst quenchers is beer. Use a light beer for blondes, amber brews for auburn shades and regular 'ol beer for brunettes. Pour an entire bottle on your head and wrap your hair in a towel for thirty minutes.
When the thirty minutes are up, wash your hair as usual. The hops and wheat in beer are great for your hair. Your hair will drink it up!
Cheers to healthy, shiny hair.