It's officially time to create our family Christmas card. This year we have three little smiling faces to share with our family and friends. Instead of trying to capture all three kids looking at the camera at the same time, I'm going to give each child an individual spot on our family Christmas card. Have you ever tried to get two kids to smile and not look goofy at the same time? It's really difficult and I'm not even going to attempt to do so with three kids.
I've been searching for my favorite three person Christmas cards. I'm drawn to colorful objects and I want something bright and eye catching for our Christmas card.
Today for Black Friday, Tiny Prints is offering 30% off sitewide and 50% off all trim. The trim options are really adorable. It is a great way to make your Christmas card stand out.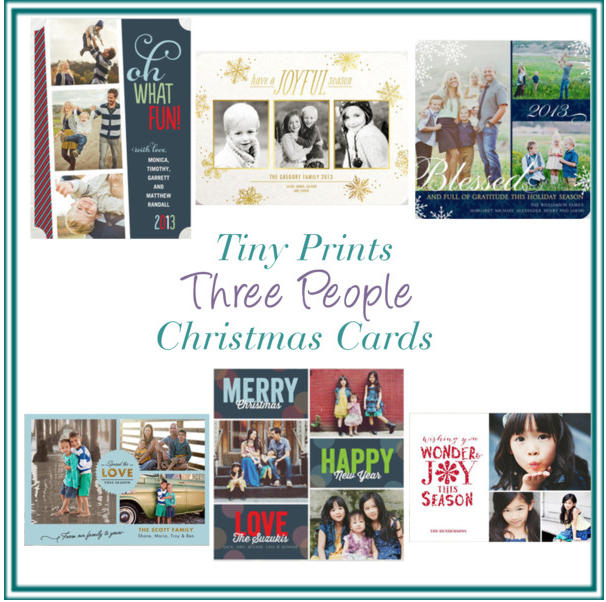 Right now the front runner is the Oh What Fun Striped Christmas Card. I really like how it looks like a photo booth photo strip. The colors are also very vibrant.
My second choice is the Merry Happy Moments Christmas Card. I think the pattern is really cute and again, I'm attracted to the colors.
Tiny Print's Black Friday sale ends at 11:59 pm on December 1. Don't miss Tiny Prints 30% off sitewide and 50% off all trim sale. It's a great deal that won't last long!
We always place the Christmas cards we receive on our refrigerator and I love looking at the families. I LOVE getting mail this time of year! Where do you display the Holiday cards you receive?
What kind of Christmas cards do you send out to your family and friends? Do you look for colors, shape, size or the least expensive one?
Happy Holidays,
Disclosure: This post was sponsored by Tiny Prints.