Thank you ChapStick® for sponsoring today's conversation. All product, information, and gifts have been provided by Pfizer Consumer Healthcare.
Hello, Sunshine! I should be one of the last people to complain about being cold. Living in Tampa means that I didn't have to brave Winter Storm Jonas, but it has been a damp, wet and cold few weeks. I've been freezing for a month now! Seriously, I can't get warm for anything. It's no Bueno.  One thing about cold weather that I dread is dry skin and chapped lips. I keep a travel-sized bottle of lotion with me everywhere I go and I have ChapStick® strategically kept with me at all times.
Kiss Chapped Lips Goodbye with ChapStick
I can never have enough ChapStick®. Honestly. I keep a tube in my bathroom, one on my nightstand, one in my makeup bag, another one in my car and of course, one in my purse. I even make sure that CC and Gracie each keep ChapStick® in their backpacks. They're notorious for licking their lips raw in the winter. Eww. ChapStick® is an easy way to keep your lips moisturized and protected.
ChapStick® Collections to Try
ChapStick® Advanced 3 in 1 Total Hydration  is my new favorite lip care product! This is my fancy, out and about ChapStick®. It moisturizes for up  to eight hours, contains Omegas 3/6/9 and it helps to keep your lips healthy and youthful. I don't want old wrinkly lips any time soon!
I keep the Classic Spearmint in my bathroom. I love the way it wakes up my lips in the morning. After I brush my teeth I apply Spearmint Classic to my lips. I have a fresh mouth inside and out.
And living in Florida, it's so important to apply SPF to your lips too! I keep my Sun Defense ChapStick®  in my car. It's an easy reminder to apply it before hitting the beach.
If you're looking for something a little more exotic try ChapStick® Tropical Paradise Collection. These tropical fruit inspired ChapSticks will warm you up in the midst of winter.  Mix it up with Aloha Coconut, that will be available exclusively at Walmart stores or Mango Sunrise will be available at mass retailers and drug stores nationwide.
Giveaway!
ChapStick® wants to give one lucky My Rays of Sunshine reader a prize pack of ChapStick® products to enjoy. This contest is only available to U.S. residents 18+. Good luck!
Visit ChapStick® on all of their social media sites:
ChapStick® website: http://bit.ly/1NR21t3
Facebook: http://on.fb.me/1Yz11NQ
Instagram: http://bit.ly/1V82G8B
Twitter: https://twitter.com/ChapStick
Pinterest: http://bit.ly/1QWt5pc
YouTube: http://bit.ly/1MGCT8i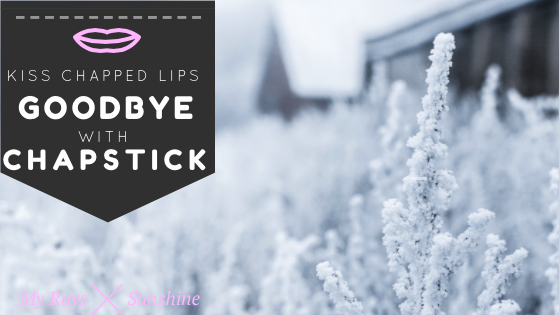 Photo By Natasha Vasiljeva
Do you have a favorite ChapStick® product?
What do you do to combat dry lips?