Hello, Sunshine! The holidays are finally here and there will be so many yummy treats to bake for your family, friends, neighbors, and co-workers. Betty Crocker cookie mixes are a fun way for your whole family to get involved and bake up some delicious cookie treats and help #SpreadCheer this holiday season.
Growing up, baking holiday candies and treats was one of my favorite things to do with my mother, grandmother, and sister. I remember being a little girl and the excitement of going to the grocery store to buy all of the ingredients to bake our goodies. This will be my first Christmas baking treats without my grandmother. I hope my children will enjoy baking treats with me this holiday season and keep the tradition alive.
Betty Crocker Sugar Cookie Cream Cheese Fruit Tart
Sugar Cookie Cream Cheese Fruit Tart is super easy and fun to create with Betty Crocker Sugar Cookie mix. This fruit tart is based on a fruit pizza that my husband used to make during his childhood. It's a recipe found in a cookbook that his mother helped create with her neighbors called See Taste and Share. 
The kids and I bought our Betty Crocker Sugar Cookie and Chocolate Chip cookie mix at Walmart right before Thanksgiving. Premade cookie mixes make it easy to whip a cookie treat in no time. We brought our Sugar Cookie Cream Cheese Fruit Tart to Thanksgiving dinner and it was a huge hit!
Sugar Cookie Cream Cheese Fruit Tart
Per Serving 307 calories
Fat 15 g
Carbs 44 g
Protein 3 g
Ingredients
Package of Betty Crocker Sugar Cookie Mix
8 oz Cream Cheese
1/3 Cup Sugar
1/2 Teaspoon Vanilla
Fresh Fruit
1 Cup Any Fruit Marmalade
1/4 Cup Water
Instructions
Follow directions to create Betty Crocker Sugar Mix as cookies you'd dollop.
Press cookie dough into pie tins.
Bake at 350 for 14 minutes or until golden brown.
Allow cookie dough pies to cool.
Mix soften cream cheese, sugar and vanilla in a bowl.
Spread cream cheese mix over cookie pies.
Decorate the pies with cut up fruits of your choice.
Mix marmalade and water together.
Pour marmalade over fruit to preserve it.
Slice and enjoy!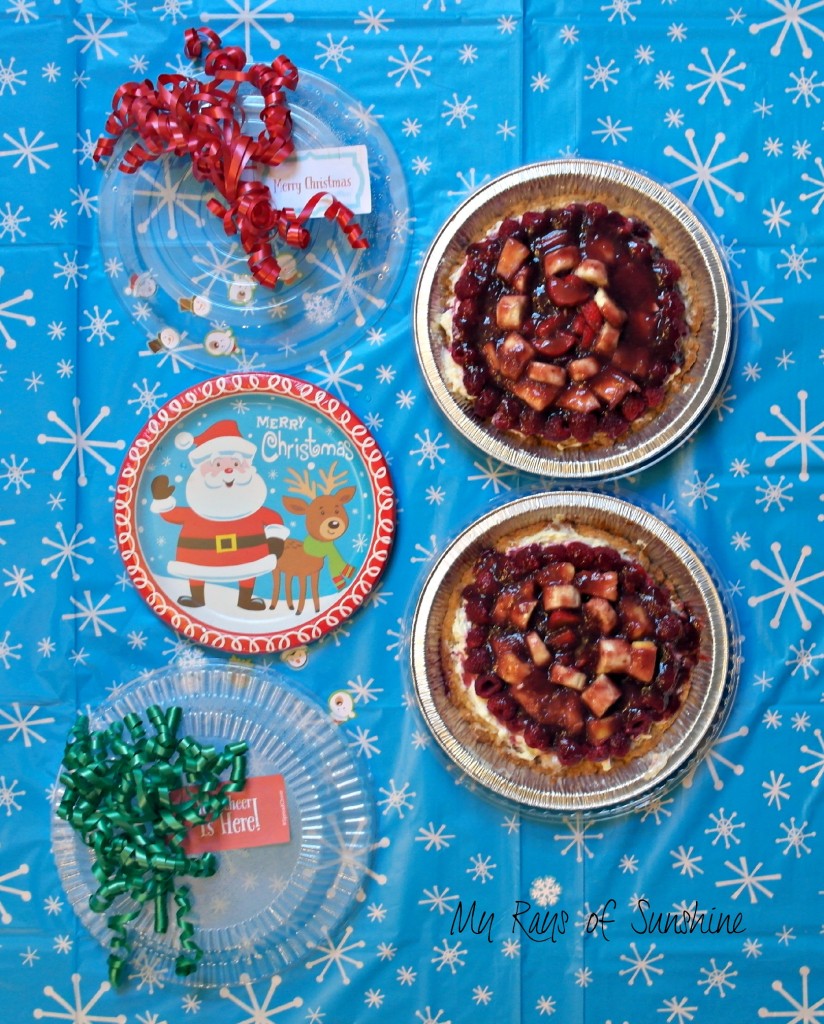 #SpreadCheer with Cookie Gift Tags and More!
The holidays can be a stressful time and sometimes all it takes is a surprise gift can really brighten someone's day. Everyone loves cookies and there's no better way to say Happy Holidays and #SpreadCheer than with a yummy Betty Crocker cookie!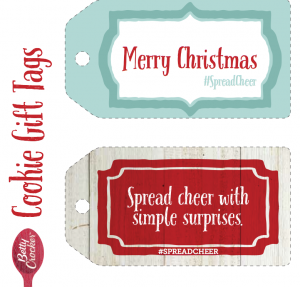 Betty Crocker has created and shared really cute cookie gift tags and coloring sheets for you to enjoy and use. You can find these on their Spread Cheer home page by clicking here.
Coupon Offer
Help #SpreadCheer and create your own cookie gift by saving with this coupon offer for you to save $0.50 when you buy ONE (1) Betty Crocker Cookie Mix.
Giveaway – $20 Amazon Gift Card
To help #SpreadCheer I'm giving away a $20 Amazon gift card to share with 1 lucky reader! You can use the gift card to create your own basket to #ShareCheer this holiday season.