Six-year-old kids, adventurous when trying new activities, not-so-much when it comes to trying new food. 
I get so tired of eating the same thing. Chicken and burgers seem to be the most common main course meals eaten at my house. My hubby loves eating burgers (my 6-year-old son won't touch one unless his Coco is eating a burger) and everyone will eat chicken. Burgers and chicken become so boring and bland, I have to spice it up.
Let me preface this by saying I don't really watch television, but I love Food Network and HGTV. (House Hunters, I'm willing to be a crazy home buyer with a too big wish list. Call me.) I love, love Chopped and Iron Chef America on the Food Network.
Every time I bust out a new recipe hubby asks me if it's because of my Chopped addiction. No (Yes). But really it's because I get bored with the same old stuff. I live with two of the pickiest eaters ever, on another day I'll tell you about our last eating adventure at Nobu. My 2-year-old daughter is my only salvation in trying new food endeavors.
On Martha Stewart's website she offers a kid-friendly recipe section, so I thought I'd give it a shot. I went through all the kid-friendly and chicken recipes and book marked them for a future trial.
And this is my adventure with Martha Stewart's Easiest Spaghetti and Meatball recipe.
Ingredients

Coarse salt and ground pepper

1/4 cup finely grated Parmesan, plus more for serving

1/4 cup chopped fresh parsley

2 garlic cloves, minced

1 large egg

1 pound ground beef chuck

1/4 cup plain dried breadcrumbs

1 tablespoon olive oil

1 can (28 ounces) crushed tomatoes in puree

3/4 pound spaghetti

Directions

Set a large pot of salted water to boil. In a bowl, combine Parmesan, parsley, garlic, egg, 1 teaspoon salt, and 1 teaspoon pepper. Add beef and breadcrumbs; mix gently. Form into 16 balls.

In a 5-quart Dutch oven or heavy pot, heat oil over medium. Add meatballs, and cook, turning occasionally, until browned, 8 to 10 minutes. Add tomatoes; bring to a boil. Reduce to a simmer; cover partially, and cook, stirring occasionally, until meatballs are cooked through, 10 to 12 minutes.

Meanwhile, cook pasta until al dente. Drain, and return to pot; add meatballs and sauce, and toss gently. Serve with Parmesan."
I thought the meatballs were very bland. The meatballs tasted like hamburgers, but my anti-hamburger eating son loved them. Go figure.
I followed the recipe exactly, but added chopped onion to the meat mixture to try and add flavor.  However, it wasn't enough to cut through the basic hamburger taste. But my addition of mushrooms, diced tomatoes, garlic and onion made the tomato sauce yummy! The next time I make meatballs I will use half ground sirloin and half ground pork to add taste.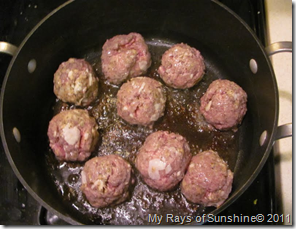 I'd give it 3 three stars. I didn't love or hate it. It was just okay but my picky little eater liked it, maybe your picky eater will too!
Happy Eating,