Hello, Sunshine! It's official – Christmastime is here! I'm pretty sure that my oldest child no longer believes in the magic of Santa, but he hasn't officially told me, so I'll make the choice that he still believes. My daughters still do and I have 5 Fun Ways to Keep in Touch with Santa and the North Pole that my kids look forward to every year.
5 Fun Ways to Keep in Touch with Santa and the North Pole
Free Personalized Phone Call from Santa
Package from Santa allows you to create personalized phone calls from Santa, with unique messages to choose from for free! Your child's photo will appear on the call screen and you select the date and time of the call. You can also find this in the app store for Apple and Android.
Christmas Dialer From the North Pole
With Christmas Dialer your child can receive a phone call from Santa or an elf. You have four messages to choose from. This is a fun, free option to change it up by having the elf call your kids.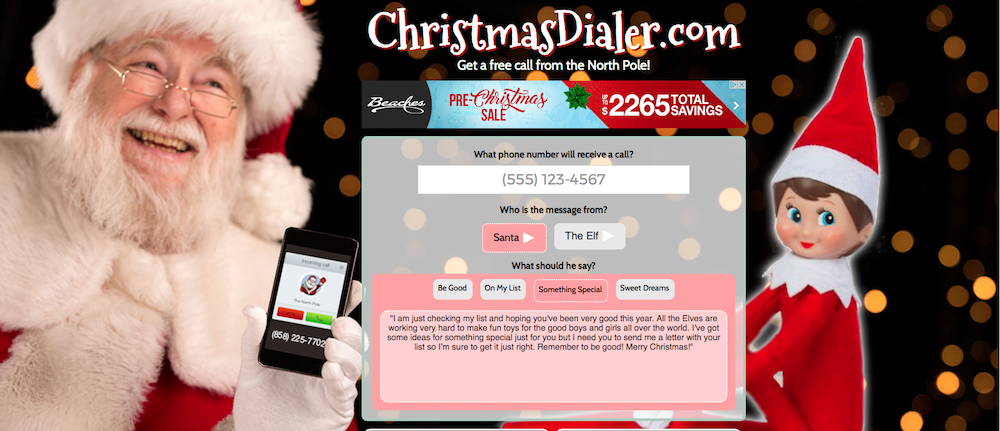 Daily Texts from Santa
Starting on December 1st until Christmas Day, Daily Texts from Santa will send text messages. Each text is different and can be amusing facts, sharing positive values, and spreading Christmas joy. There is a one-time charge of $9.99 that includes all 25 daily text messages.
 Letter's from Santa
Create printable or custom Letter's from Santa. I remember every Christmas morning when I was a little girl reading my letter from Santa. It was one of the first things I did – after checking for my Santa gifts of course. The letters vary in prices based on the different options.
Portable North Pole Video Message

"He's making a list and checking it twice. He's going to find out who's naughty or nice. Santa Claus is coming to town." Santa's created a personalized video for your child letting him or her know about his naughty and nice list.
Portable North Pole allows you to create a personalized naughty or nice message from Santa Claus, for free. The Portable North Pole elves' machine helps Santa decide whether or not your child is on the naughty or nice list.
My children are glued to the computer screen watching their personalized videos. My youngest loves telling Santa her wish list. And my other daughter curiously sits and waits for the outcome of the elves' machine. Thankfully,  she's been on Santa's nice list.
The videos are really cute and are of great quality. My kids love their Santa videos and it's magical to see Santa speak to your child by name and talk to him about his behavior.
Do you remind your kids about Santa's naughty or nice list?
What's your favorite way to keep in touch with Santa and the North Pole?
Wishing you and your family a wonderful and magical holiday season!
This post originally appeared on The Mommy Spot Tampa. Be sure to stop by and say "hi"!