This post may contain affiliate links. I may receive commissions for purchases made through links in this post.
I'm jealous of my children's beautiful skin. It's soft, poreless, smooth, glowing and radiant. Apparently when you hit your 30s all of that loveliness just disappears. I have tried so many products and DIY beauty treatments to help control my humidity induced oily skin and enlarged pores that it's become so easily to get frustrated with results. I've been given the opportunity to try  Exuviance® Triple Microdermabrasion Face Polish in hopes to have polished pretty skin.
Exuviance® Triple Microdermabrasion Face Polish
Exuviance® Triple Microdermabrasion Face Polish is a dermatologist created product that is a three-in-one approach to renewing your skin. It's a blend of chemical, physical and enzyme rejuvenators that will polish your skin for beautiful resurfaced skin results.
You'll find professional grade crystals (like those used by dermatologists), 10% glycolic acid, and papaya enzyme in the polish. Each of these ingredients helps give you a brighter complexion and reduces the appearance of enlarged pores and dark spots. It's also free of plastic polyethylene beads that are harmful to the environment. I'd guess that the plastic beads are probably not the best for your skin either.
Polished Pretty
The professional grade crystals offer a powerful, but gentle polish to my skin. The humidity here really makes my skin oily and congested. I sometimes use a harsher scrub on my face hoping to declog my pores and polish any dull skin. Sometimes it works, sometimes it doesn't.
Exuviance® Triple Microdermabrasion Face Polish smells so amazing! The scent from the papaya enzyme is a sweet note to wake your face up with. I use a pea sized amount for my entire face. I dab it on my forehead, nose, cheeks and chin, and then gently polish my face in tiny circles.
I allow Exuviance® Triple Microdermabrasion Face Polish to sit on face for two minutes. During the two minutes I drop a few squats to pass the time. After the two minutes are up, I grab my little spin brush and add a little extra polish and glow. I rinse it off and finish the rest of skin care regime. Voilà!
You can only use the product two to three times a week because of the potent exfoliators of pure papaya enzyme and 10% glycolic acid. These two powerful ingredients have helped decongest the pores in my t-zone. My skin looks brighter and is so soft! I love that my skin's cell renewal is stimulated and encouraged with the use of  Exuviance® Triple Microdermabrasion Face Polish.
I've never had a microdermabrasion from a dermatologist, but I'm really enjoying the way my skin looks and feels after using Exuviance® Triple Microdermabrasion Face Polish. If you're looking for results similar to what you'd find from your dermatologist, try Exuviance® Triple Microdermabrasion Face Polish.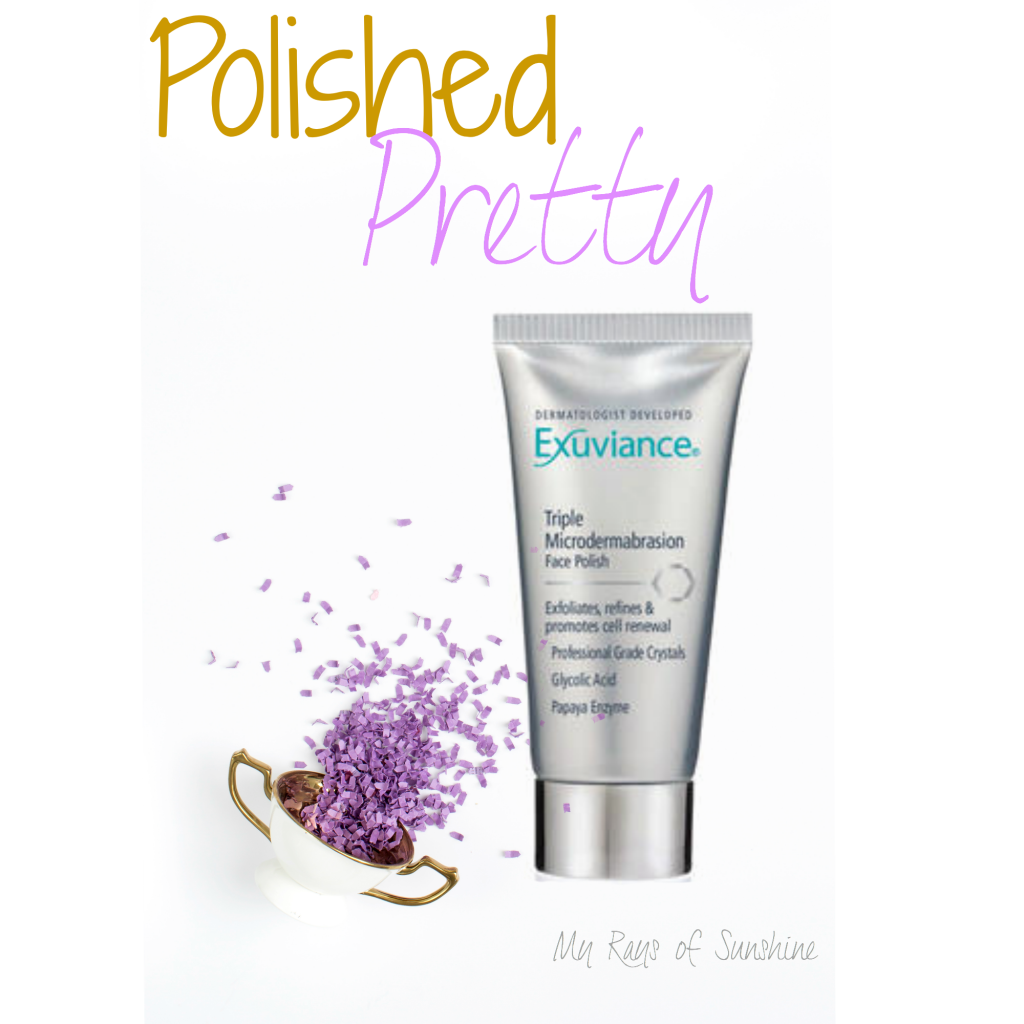 What's your biggest skin concern?
Have you had a microdermabrasion?
Thank you Brand Backer for sponsoring today's conversation.